What we Offer
Specialist in Robotics Courses for kids
Go to Online Courses
Online Courses
Learn Electronics, Programming, Circuit designing from scratch. No Prior Technical or Programming knowledge is required.
Go to Robolabz @ Schools
Robolabz @ Schools
We help setting up Robotics Classes at schools. Special kits have been designed to be used in schools with continuous course upgrades & Tech Support.
Go to Start your own Robolabz
Start your own Robolabz
To improve the quality & reach of Robotics education, we even provide solutions to small centres with a micro setup of 5 students and low investment.
Robolabz is a startup by Automation Engineers enthusiastic about Robotics
High Quality, Hi-Tech, Frugal Robotics courses for everyone.
RoboLabz aims at Basic Engineering, Robotics & Programming for all. We have been extensively researching on these subjects and we have trained students from Class 1 to Engineering standard. Feedback during the trainings have been taken from students & their parents to further evolve the course by breaking it down into small activities. We have also incorporated inputs of people from non tech background like housewives, commerce & arts students to make the course most suitable for anyone of any age group.
Useful even for building your own applications after the course. Major Kit Contents - Robot Controller, LEDs, motors, chassis, tyres, sensors (50+ components).

A login is provided to download software and view course videos. The videos have been developed to build student's Robotics Quotient step by step from scratch.

The GUI based programming software is best suited for kids and non Tech enthusiasts to start learning basics of programming till building own Robots.

Instead of hiding and packaging each item in the kit, we have kept it raw to help kids intearct with each item at technical level & to reduce cost effectively.
Alumni Snapshots
Kids of all ages have learnt Robotics with ease

Prasoon joined in class1, he learned to build basic Electronics circuits and also built a wireless wheeled robot which was controlled through programming.

Aurum
Class 3, DPS Rohini
Aurum joined in class 3, he built 25 applications of the Robot controller and also developed wireless sensor controlled obstruction avoiding Robot.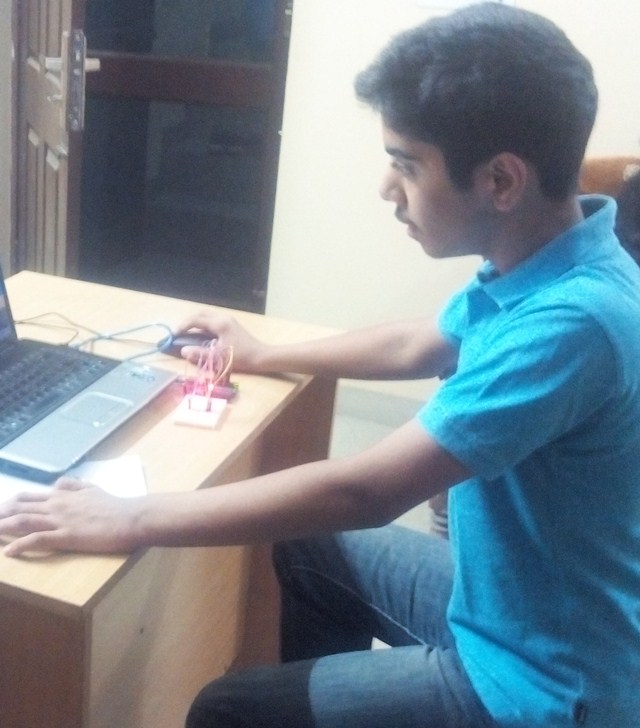 Harshil joined in class 8 and at the time of joining the classes he had no exposure to Programming or Electronics. After completing the course he has started developing his own applications.